---
Do you often have toothaches? Or the one who is suffering from tooth decay problems? We are here to cure you of all your problems. We at Surana Dental Clinic vijay Nagar are the best dental clinic and will help provide you with the best treatment. The Surana dental clinic vijay Nagar is located in the prime location of Indore (M.P. ) near Satya Sai Chouraha. The treatment done at Surana is done by professionals in the field and by the MDS doctors. The dental clinic Vijay Nagar provides a very comfortable environment to the patients where they can seat freely and describe the cause of their discomfort easily. The international standard protocol is used at Surana dental clinic vijay Nagar. The most modern technology was used for your dental checkups. The specialists first identify the problem by taking a thorough examination, and then they give you the best plan for treatment.
Thus, the dental clinic vijay Nagar will offer its customers a modern clinic with the facility of emergency services 24/7 around the clock. Before moving further, we first need to know why we should choose the best clinic or doctor.
Why Best Dental Clinic Vijayanagar?
Of course, the people who reside in Indore know that Vijay Nagar is in a prime location, and Surana is the best dental service provider in Vijay Nagar. But the question is, so usually, we see that our teeth look good from the outside, but we don't know what's going on inside. Your teeth will not necessarily be clean and healthy, so to avoid the risk of plaque, cavities, gum diseases, tooth decay, and dental pain, it is necessary to go to the best clinic where they have a solution for all of your problems in one place. The Surana dental clinic vijay Nager will provide you with services like,
Root canal treatment

Braces and aligners

Dental jewelry.

Removal of the gap between the teeth

Cosmetic treatment

Dental implant

A smile makeover treatment of yellow teeth and stains Treatment of oral trauma Surgical and non-surgical operations

Digital x-rays

Treatment of pediatric patients and a complete denture.
"Dr. Ashish Surana" is a BDS and MDS; he is a dental surgeon and orthodontist. He has about 15 years of experience as a dentist and surgeon. As of 2005, he has completed his BDS and MDS from Mathura (U.P.) and is also a member of the Indian Orthodontic Society.
"Dr. Deepti Surana" received her BDS and MDS from Mathur ( U.P. ) and has completed her graduation from Indore. She is an endodontist and cosmetic dentist. Both doctors were very calm and patient, and they treated their patients without making them feel any pain during the treatment.
We have learned about Surana that here the doctors were well-experienced and professional in their field. But apart from this, there are certain other benefits Surana dental clinic Vijay Nagar offers to give you the best service.
It is located in the prime area of Indore, M.P. so that people can easily find the dental clinic and wouldn't get confused about reaching there.
The other thing is dental clinic vijay Nagar is directly connected with the BRTS route so people who won't have a vehicle can reach there without paying huge for a taxi or auto.
The instrument used here is highly upgraded with modern technology.
We are offering our customers a painless treatment so they won't cause any discomfort.
We have reasonable charges of treatment to make your smile a perfect one.
Surana dental clinic has an international Sterilization protocol to take care the safety of our patients.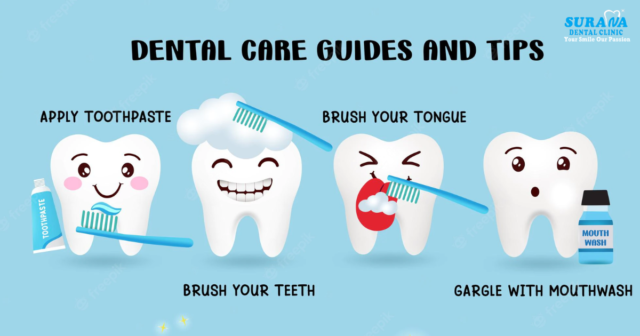 Tips That Doctors Suggest You Follow to Take Care of Your Teeth Include the Following :
Here are some of the best advice from the best doctors for taking care of your teeth. They are,

You should rinse your mouth properly after eating something with an antiseptic mouthwash. This will help kill germs and bacteria.

Prefer white paste for tooth whitening once a week. This will help you to maintain a fresh breath in your mouth and lower the chances of mouth staining.

Brush your teeth twice a day to avoid any tooth cavities.

Floss your teeth one time a day to avoid any plaque on your teeth.

Use touch-up treatments, as touch-ups will help restore the natural shine of your teeth.
And At last, it is preferred that visit your dentist once in every six months because they will check the condition of your teeth and will give you the right treatment. Thus visit Surana dental clinic Vijay Nagar as the best dentist in Indore (M.P ).
---